Technology
Innovative solutions for The new Sprinter.
An upgraded standard specification with all new bells and whistles.
Meet The new Sprinter - ready to take to the road with extensively tested and highly advanced, new features:
Standard Features Overview
Rear view camera display in the rear view mirror
Cross wind assist
Hill start assist
Cruise control
Active Brake Assist
Electrically heated and adjustable side mirrors
Optional Features Overview
Multimedia system with touchscreen (MBUX)
Power sliding door





---
Excitingly enhanced infotainment
With the advanced MBUX (Mercedes-Benz User Experience) touchscreen system, The new Sprinter offers the latest infotainment system - progressive technology fit to lead the class.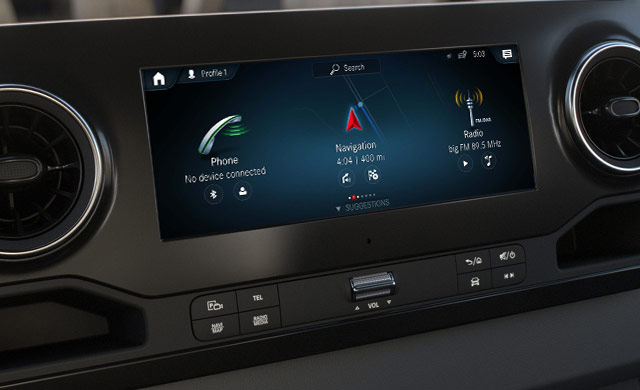 The all new infotainment system
Make trips more enjoyable with The new Sprinter's multitude of sophisticated MBUX infotainment optional features, including 7" and 10.25" touchscreens, wireless charging, Apple CarPlay/Android Auto, and Sirius Satellite Radio. The MBUX touchscreen offers users unprecedented control and easy to use features that will make a day on the job anything but boring.
---
A leader in safety
Safety is the cornerstone of The new Sprinter. Its class-leading safety features surpass that of previous generations, making it the safest Sprinter yet.
Traffic Awareness Features
In order to ensure the highest possible safety on the road, the following optional safety features aim to substantially boost traffic awareness.
Active brake assist
In case of any oncoming danger, Active Brake Assist warns drivers and if necessary, will brake for them. As a class-leading feature, it is the only system that can recognize and respond to pedestrians.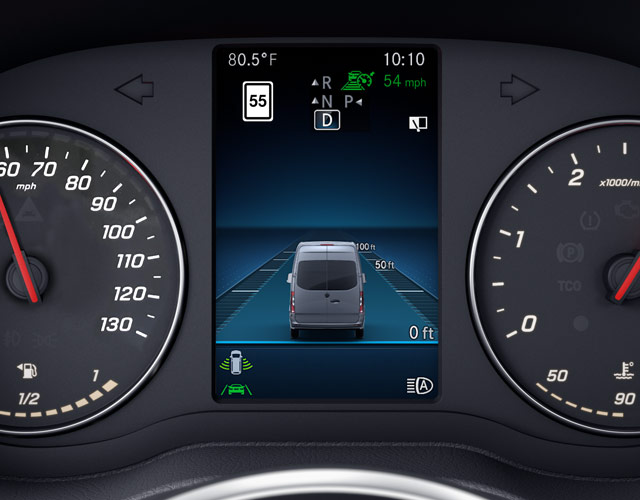 Active Distance Assist DISTRONIC
In high traffic areas, Active Distance Assist DISTRONIC keeps enough distance between your vehicle and the one ahead of you to ensure optimal safety.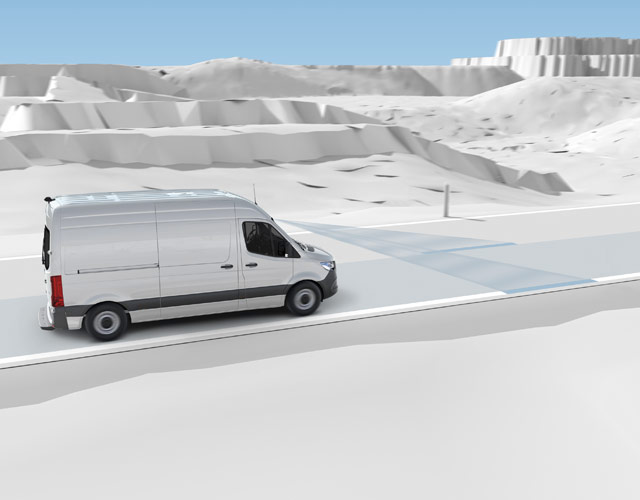 Active Lane Keep Assist
If a driver is ever to unintentionally drift or leave their designated lane, Active Lane Keep Assist immediately alerts them.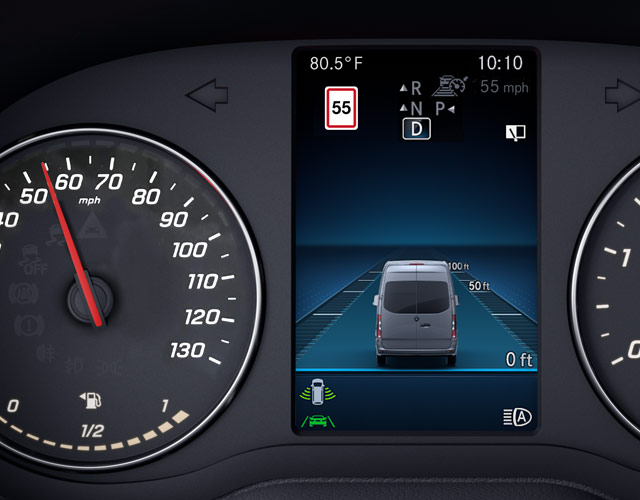 Traffic Sign Assist
Throughout your travel, speed limits can be everchanging. Traffic sign assist helps to identify the correct speed and adjust accordingly.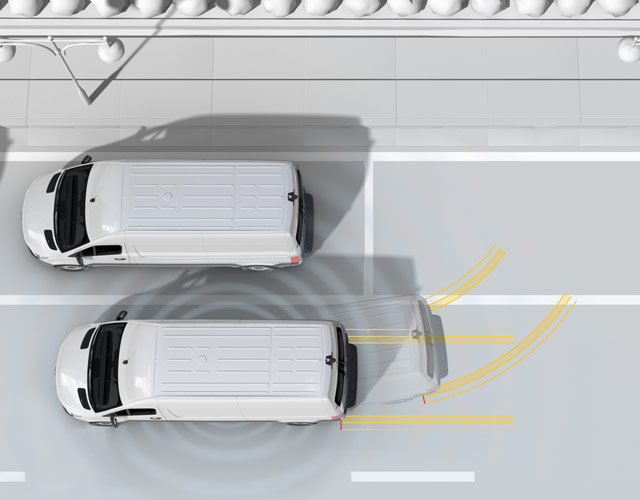 Blind Spot Assist incl. Rear Cross Traffic Alert
Blind Spot Assist provides warnings regarding vehicles in the blind spot while Rear Cross Traffic Alert warns about crossing objects when reversing.
Enhanced safety features
The new Sprinter is also equipped with the following additional enhanced safety features: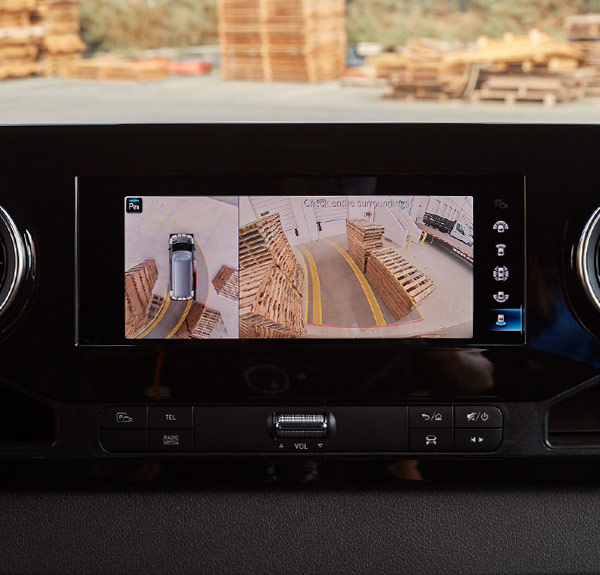 360° camera
Simplify parking and overall maneuvering with extended safety support from the optional 360° camera.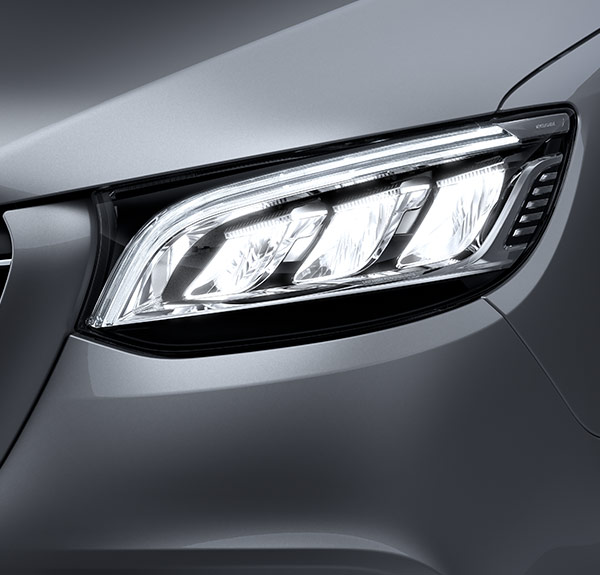 LED Performance Headlights
Improved illumination maximizes the view of the road ahead while further enhancing the vehicle's overall aesthetic with a sleek optional front-end design.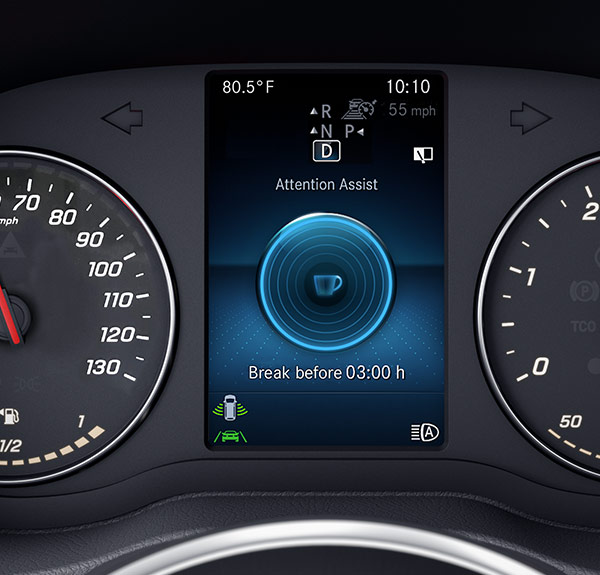 Attention Assist
Optional "drowsiness detection" keeps a constant eye on drivers' behavior, alerting them at any detection of drifting off.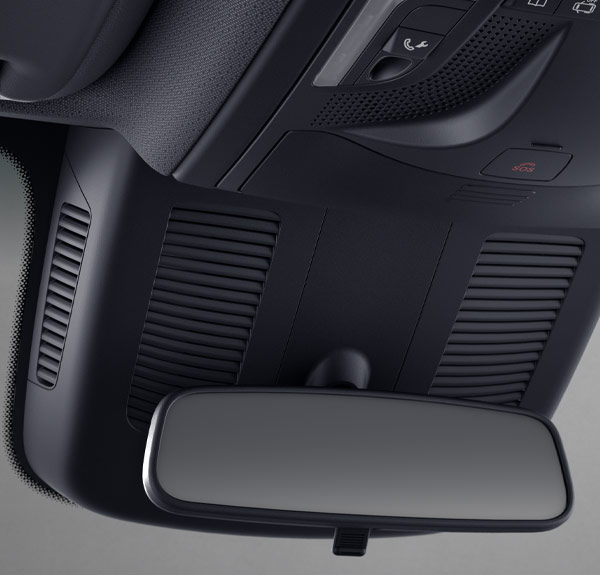 Emergency Call (eCall)
Standard with every vehicle, if a crash is detected, eCall will automatically send for immediate emergency response.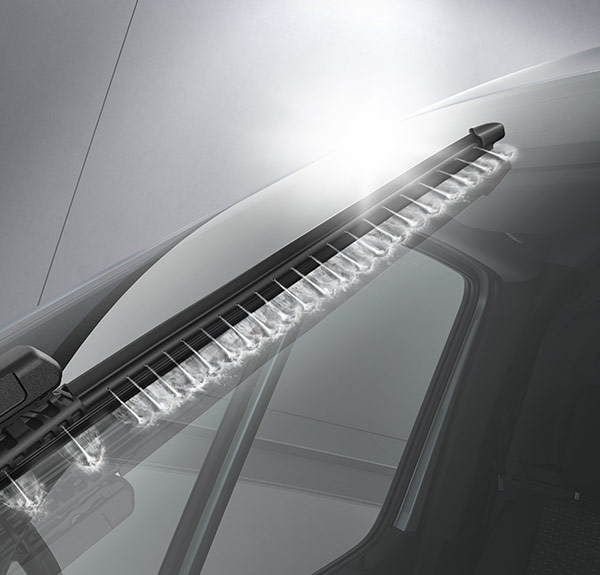 Magic Vision Control Windscreen Wipers
Maintain clear sight lines with the new optional Wet Wiper System.
Advancement should never sacrifice comfort.
The innovative features available for The new Sprinter don't stop at safety.
Our ever-improving approach is translated into the interior of the vans as well.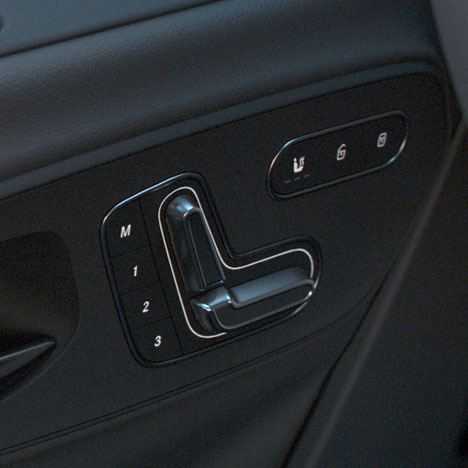 Enhanced Driver Comfort
There's complacent then there's sheer comfort. With optional fully adjustable, electronic driver and front passenger seats offering enhanced lumbar support and automatic THERMOTRONIC climate control, we've chosen to focus on the latter.
---
Next Steps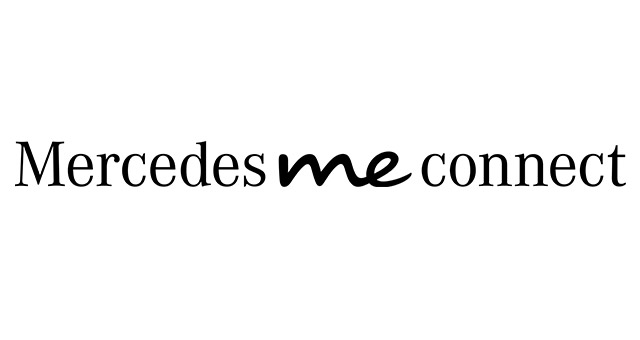 Connectivity
Discover the innovative connectivity solutions of Connectivity.
The new Sprinter
Gas models starting at $36,355*
Models shown may include options/packages not standard on a MY20 or MY21 Sprinter. Specifications are subject to change.
* Excludes all options, taxes, title, registration, transportation charge and dealer prep fee. Options shown. Not all options are available in the U.S. For a full offering and pricing information, visit your local Freightliner Sprinter dealership. Delayed availability.